Overview
Specifications
Accessories
Articles
Overview
For when there is simply neither the space nor the need for all the output of a larger HT model. HT/1003 applies the same approach as its impressive stable mate and scales it down by just a little.
10" high-powered, long throw driver and 300W means it has plenty of power on demand. This unit is intended primarily for high powered home theatre applications, immersive gaming set-ups, and pairs nicely with active powered loudspeakers. Scaled down design, up-sized performance.
Compact Power & Punch
Our home theatre-focused Serie HT line is designed specifically to answer the challenge of affordably priced, highly dynamic pure home theatre powered subwoofers in a handsome, compact package that makes it easy to tuck a few of these into most environments. The HT/1003 combines a lightweight, modern 10" CarbonGlas (250 mm) driver, coupled to a powerful 300W Class D amplifier that runs cool, producing startling dynamics. Internally, we designed specially adapted home theatre input filters that produce extremely flat bass down in the 20's.
We set out to build the loudest, relatively compact, affordable 10" unit available for pure home theatre use. Critics are already lining up for reviews. The HT/1003 is designed to deliver the best bang (quite literally) for your buck when building a home theatre system, featuring: crisp cabinet dimensions finished in an attractive, yet purposeful, line grained black aluminium-look and topped by a 12mm thick beautifully polished top that serves to damp vibrations on the critical top surface of the cabinet.
For REL owners already enjoying our Serie T/i or S subwoofers designed for both 2-channel and theatre use, the HT/1003 is designed to supplement their system's .1/LFE output to produce even higher output, adding further depth to special effects to provide a true home theatre experience. If you own a REL and want theatre to be wildly dramatic, add in an HT (or a few).
Purpose Built
HT/1003 delivers a tough, honest, purpose-built appearance designed to communicate its sole mission; extremely high output home theatre at bargain pricing. The cabinet's width is minimised reducing visual mass, whilst depth is maximised to produce the deepest bass. We selected tough, high-grade, horizontally oriented line-grained composite to wrap the entire cabinet. Easily handled, easily cleaned. Yet, the top surface that one's eye sees is beautifully finished in 5 coats of hand rubbed lacquer, creating the visual appeal we've come to be known for.
Ten-inch Carbonglas Driver
REL's driver prowess is on full display with the HT/1003, a modern 10" CarbonGlas (250mm) driver that is both lightweight and extremely stiff. While many competitors drone along with relatively slow, heavy cones HT/1003 uses tough, stiff carbon fibre over 60% of the driven surface, backed by lightweight glasfibre. Naturally, we use true high quality natural butyl surrounds as they remain soft and pliable for decades—something REL owners have come to expect. We believe the new 10" CarbonGlas driver sets a new standard for affordable, high performance theatre-specific drivers.
Smart Power
300 Watts: To accomplish our single-minded goal of exceedingly high output for large-scale theatre in a such a compact footprint requires a special amplifier. Our NextGen5 Class D amplifier frees up interior space whilst running cool; this results in more cabinet volume and that translates into ultra-deep bass despite its modest footprint. 300 watts means the driver is never starving for power ensuring high output, delivered effortlessly in a long running, reliable design. Within HT/1003's input filter, we designed specific inverse filtering to permit our CarbonGlas driver to extend much deeper than conventional designs.
HT-Air - Zero Compression Wireless Compatible
There is wireless and there is REL wireless. We are well-known for having the finest wireless purpose-built systems in the component audio world. Though HT-Air is affordable, it retains our corporate fixation on zero compression and maximum dynamics. HT-Air is designed to leave old fashioned Bluetooth-based systems in the dust, delivery latency in the 16-20 millisecond range. This permits owners to place their HT model wherever it works best for you without resorting to unsightly cables being strewn across the landscape of your living room.
Specifications
Type
Closed box, front-firing driver
Active Driver Size & Material
10 in., 250mm long-throw, CarbonGlas cone structure, inverted carbon fibre dust cap, steel chassis
Passive Radiator Size & Material
NA
Low Frequency Extension
-6dB at 24 Hz
Input Connectors
Dual purpose Low Level stereo RCA or LFE RCA
Output Connectors
Daisy Chain Low Level stereo RCA or LFE RCA
Power Output
300 watts (RMS)
Amplifier Type
NextGen5 Class D
Wireless Capability
HT Air Wireless (Optional), Zero Compression Single Large Scale Integrated Chip
Fully Electronic Set Safe
Yes
D.C. Fault
Yes
Output Short
Yes
Mains Input Voltage
220-240 volts, 110-120 volts for certain markets
Fuses
6.3 Amp semi delay 230 or 115 volts operation
Dimensions W x H x D
12.5 x 13.7 x 13.8 in. (318 x 347 x 351 mm)
Net Weight
33.3 lbs. (15.1 kg.)
Finish
Line Grained Black Composite
Supplied Accessories
Mains Lead
Users Manual
Accessories
Here are some accessories available for the REL HT/1003 10" Subwoofer
REL HT-Air Wireless Transmitter for HT Series Subwoofers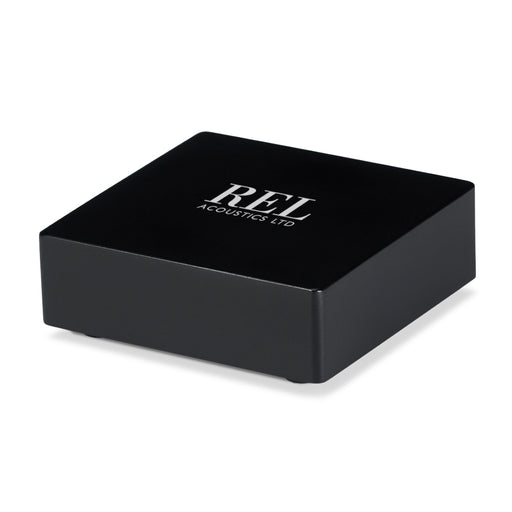 Articles
Explore articles / guides on entertainment systems.