Overview
Specifications
Accessories
Articles
Overview
Precision Radial Tonearm
The Clearaudio Clarify Tonearm is a meticulously engineered radial tonearm for all Clearaudio turntables designed specifically to replicate even the smallest details with stunning clarity.
Frictionless
One source of signal degradation between the stylus and amplifier is friction or resonance in the tonearm itself. Thanks to the fully magnetic gimbal design, the tonearm is essentially floating with respect to the turntable, making it totally frictionless. This means that no resonances can be transferred from the tonearm into the turntable resulting in crystal clear signal transmission.
Truly specialist
There are very few manufacturers that are pushing the envelope like Clearaudio are. What you get when you buy a Clearaudio is a precision engineered product designed for real enthusiasts.
Specifications
Construction details
Radial tonearm with friction free magnetic bearing technology
Material
Aluminium (silver), stainless steel, carbon tonearm tube (silver)
Cartridge balance range
2.5g – 17.0g
Overhang
17.33mm
Total length
330.00mm
Effective length
239.25mm
Mounting distance
(tonearm pivot to spindle): 222.00mm
Offset angle
25.45°
Wiring
1.1m Clearaudio Direct Wire terminated with RCA
Weight
Approx. 410g (incl. counterweight)
Manufacturer's warranty
2 years, provided the warranty card is fully completed and returned to Clearaudio within 2 weeks of purchase.
Accessories
Here are some accessories available for the Clearaudio Clarify Radial Tonearm for Clearaudio Turntables
Clearaudio Performance DC Turntable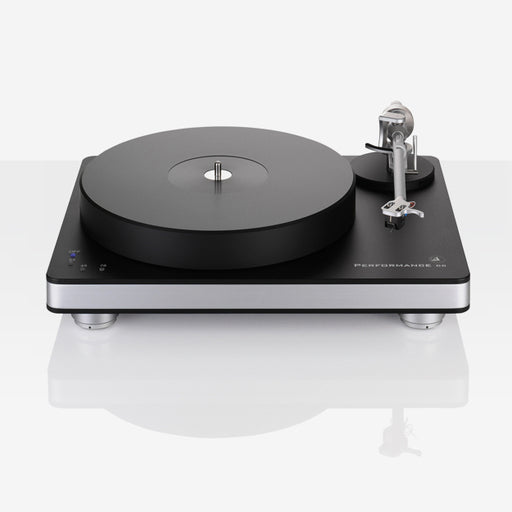 Regular price

from £2,300
Clearaudio Virtuoso V2 Moving Magnet Cartridge
Articles
Explore articles / guides on entertainment systems.